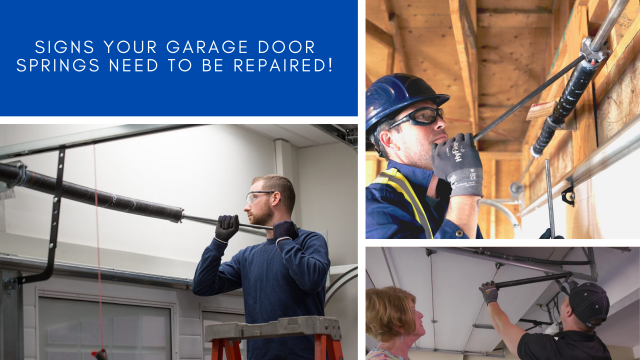 Like most homeowners, you probably take your garage door for granted until something goes wrong. If this is the case, it is essential to know the signs that it needs repair to get the help you need before it is too late. If your garage door is old and outdated, you risk the chance of break-ins or other theft. If it is damaged, your home is not as safe as you might think. If you notice that your garage door is having issues, there are several things to look for to tell you if it needs repair or replacement. This way, you can avoid an emergency by getting a professional garage door technician out to take a look at your door as soon as possible. But how can you tell if your garage door needs a repair, and how do you find the right company for garage door repair near me? Below is an overview of what you need to know.
First, examine your garage door for any issues. If the weather-stripping at the bottom of your garage door is broken or brittle, it needs to be replaced. This will protect your door from further weather damage and extend its life. Examine the rollers to see if they are cracked, worn down, or chipped. The rollers must operate as smoothly as possible to ensure the safety and longevity of your garage door. Next, are there any loose wires, screws, bolts, or other parts that appear to be out of place? See why this happened, and try not to do any repairs yourself, or it might make things worse.

If you are having trouble getting your garage door to open or close, your door will likely need some general maintenance or repair. This can be due to a faulty part, whether it is a worn cable or springs in need of replacement. While you may think your springs are fine, something as small as a misaligned or worn-out track can be enough to keep your door from working correctly.
You might notice that your garage door makes strange noises or screeches, which can be a sign that you need to get it checked. It can indicate rusty hinges to defective opening mechanisms, and the type of repair your garage door requires may be shown through the sound it makes. A rumbling sound, for example, may indicate a problem with the torsion springs. 

If you see an excessive amount of shaking when using your garage door, it could be a sign of a variety of issues that could worsen. It could be a loosened screw, rusty hinge, or several other things. The only way to know for sure is to hire a garage door service company to assist you. And if your garage door is sagging, it can significantly compromise your home's security which is all the more reason to hire a technician.

Keep in mind that at all times, your garage door must operate within the tracks on either side of the door. However, the garage door may occasionally slip off track, signaling the need to replace or repair the essential garage door parts causing the issue. Damage to the garage door or its rollers could be one of the causes of it being off track. The garage door will also come off track if the vertical and horizontal tracks are misaligned. Garage doors that are off the tracks for any reason can cause serious problems, so make sure to inspect them regularly. If there are any issues with this, contact a company for immediate garage door repair.

Now that we have gone over the signs of issues with a garage door, there is still the problem of finding the right company. The first thing to do is check if they are licensed and see if their physical address is listed online. Look at the reviews to get a better idea of the service that they provide.

With these in mind, maybe you are still searching for a company with reliable service. Look no further than Alpine Garage Doors, as they have served the Greater Houston area for more than ten years. They are available 24/7 for emergency garage door repair, so you won't be kept waiting. From overhead garage door repair to garage door installation, they have you covered.